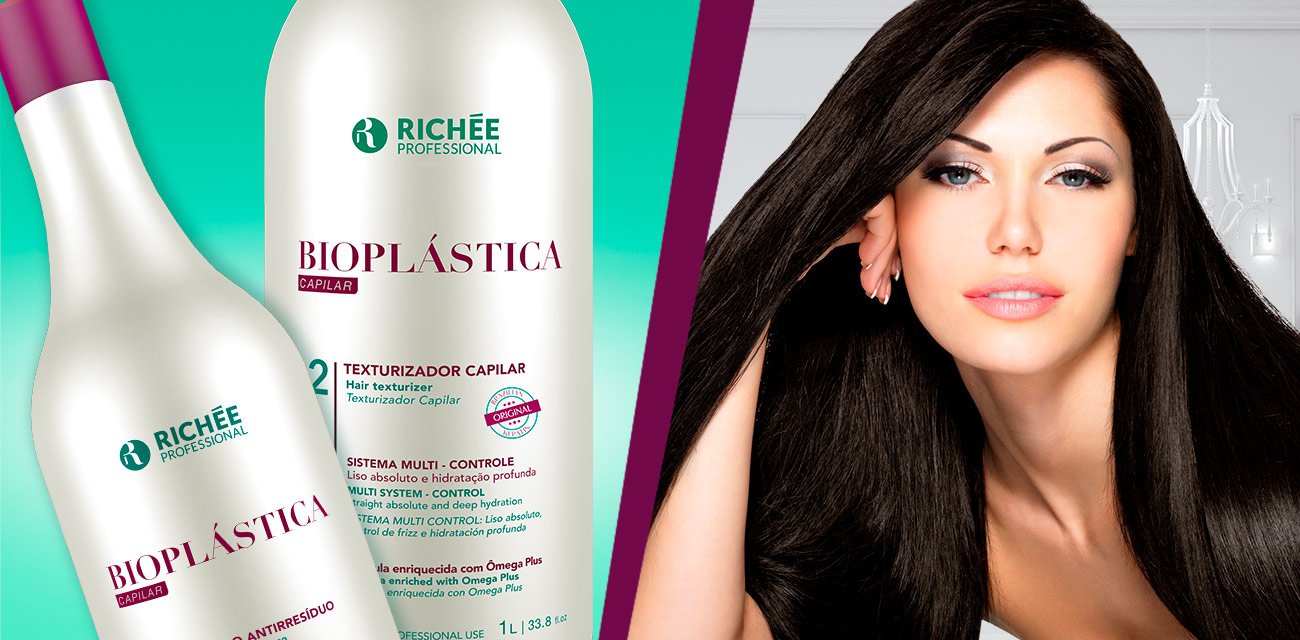 THE STRAIGHT HAIR
YOU DESERVE
Hair alignment without damages
to the hair fiber
Richée Professional Bioplástica Capilar is a system that provides an incredible alignment without harming the hair fiber. Its exclusive Multi Control formula is enriched with a Omega Plus blend of oils and nutritious ingredients which are responsible for repairing and treating the hair during the straightening process.
BioBTx Mass Replenisher
500 g / 16.9 fl.oz
It is an impact treatment for the most fragile and damaged hair. Formulated with noble ingredients for revitalization of the hair and traditional ingredients which fill the damaged areas of the hair, providing extreme hydration, emollience and shine, also preventing hair porosity, frizz and split ends.
Apply Deep Cleansing Shampoo to wet hair, gently massaging until foam forming. Rinse and repeat the process if necessary. Remove shampoo completely
from the hair.
Section hair in six parts and apply Hair Texturizer strand by strand. Keep a distance of 1.5 cm / 0.6 inch from
the roots.
Dry the hair completely with a blow dryer on COLD temperature. Flat iron hair in thin strands 10 to 15 times. The use of gloves
is mandatory.
Step by Step with Replenisher
Wash the hair with Bioplástica Capilar Deep Cleansing Shampoo, rinse and repeat the operation.
With the aid of a brush, apply Bio BTx Mass Replenisher in strands along all hair length.
Let it act: fine and bleached hair from 10 to 15 minutes and resistant hair up to 30 minutes.
Rinse to remove the excess of the product. If the hair is blond (highlighted or bleached), remove 100% of the product.
Blow dry the hair using a brush. Folow with flat iron in fine strands, 10 to 15 times each strand.